Mystical, Moonlit Night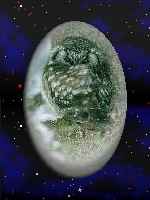 Lucky he is, too. Born on an early summer's eve; on a very mystical, moonlit night. The moon himself was smiling, he was, and glowing with an effervesence not seen by Human eyes before. A Lucky Moon. A Magical Moon. All the Enchanted Forest creatures, and particularly the inhabitants of Ailfen Wood Hollow, knew it was a magical night when he was born.

The little creatures of the forest waited in anticipation for the Great Owl to announce his arrival; and when it came.....well, there was laughter, shouting and crying and Such Joy!! All the faeries were dashing about, scattering their faerie dust on everyone, they were. Too excited to notice that there were no longer any feet on the ground; every creature was floating in faerie dust, laughing and enjoying the magical moment.




©1998 1999 Bexboomer Creations




NEXT PAGE




Some of the graphics and backgrounds on these pages were created by Bexboomer Creations.
If you decide to download any to use on your personal site, please email me
or sign my guestbook to let me know, so that I can be overwhelmed!




If you came here through a webring, you will find it HERE


Content © 1997 1998 1999 by Bexboomer Creations. All rights reserved.